Mission Statement/Philosophy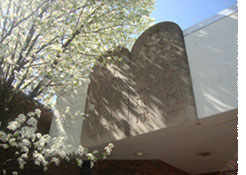 Our philosophy reflects a commitment to Torah study, spiritual growth and the State of Israel.

The congregation embraces new members and visitors with warmth and friendship.

Prayer services are traditional; Halacha, Jewish Law, is strictly observed and the synagogue houses the community mikvah.

Congregation Etz Chayim a member of the Orthodox Union, is accepting of a broad range of observance within a Halachic common denominator.






Congregation Etz Chayim * 3853 Woodley Road, Toledo, OH 43606
Phone: (419)473-2401 * Fax: (419)474-1880
E-mail: info@etzchayimtoledo.org
Copyright © 2000-2021 Congregation Etz Chayim All rights reserved.